Air Conditioning Service in Spring Hill
Spring Hill families call on Jim Rice A/C Services when they need a fast, professional and reliable air conditioning contractor.  Call us today at 352-442-7748 to solve your air conditioner problem!
Coming home to a hot house in the heat of Florida is less than desireable! Fortunately Jim Rice A/C Services is here to help make sure your air conditioner is always keeping your home cool.
Reach out to Jim Rice A/C Services for any of these Air Conditioning Services.
If your Air Conditioner isn't providing the cold air you require, you may need a
new filter

.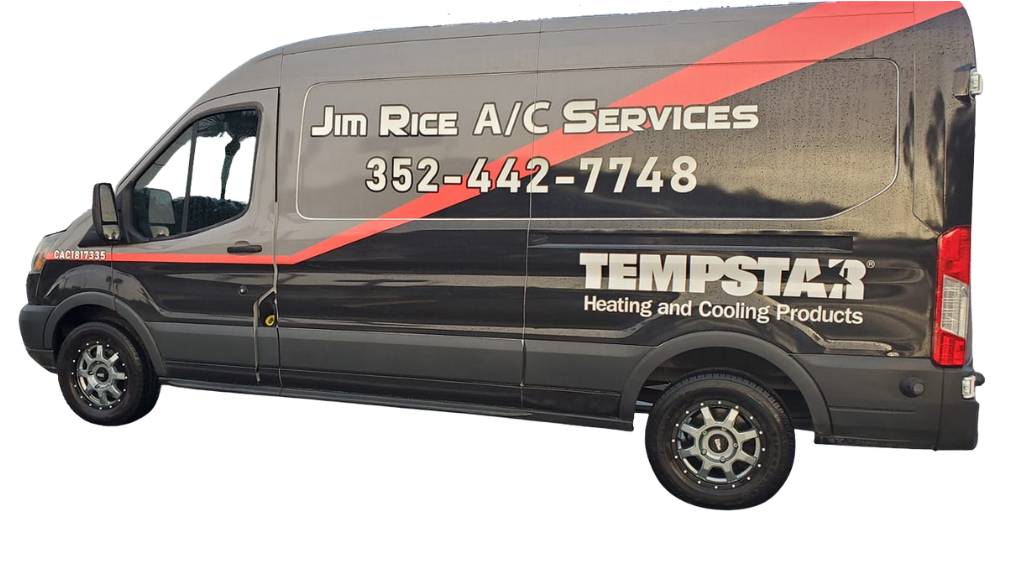 How to Properly Maintain Your Air Conditioner
Whether you have a central air conditioning system or a one room unit, it's essential that you properly mainain it to make sure it works when you need it most and lasts as long as possible.
Follow these quick tips for keeping your air conditioner in great shape.
Change Your Air Filter Once Per Month

Changing the air filter is arguably the best thing you can do to properly maintain your air conditioner.

Keep The Coils Clean

Be sure to keep the coils clean to avoid placing unnecessary strain on your air conditioner. We recommend taking the first step, by clearing the area around the outdoor unit.

Check The Fins

If you notice the fins are bent, you can purchase a fin comb to solve the issue or call a professional air conditioning technician to assist.

Inspect The Condensate Drain

If you notice water isn't draining properly, unclog the obstruction or contact your local air conditioning company.

Schedule a Professional Maintenance Appointment

When you schedule a maintenance appointment, your entire air conditioner will be cleaned, inspected and tuned. This ensures it is functioning when you need it most and we look for any underlying issues.
Whether it's for preventative maintenance, repair or a replacement of your air conditioner, you can count on Jim Rice A/C Services. Call us in the Spring Hill area at 352-442-7748!
I contacted Jim Rice AC Services with a problem with my AC unit. I used the Jim Rice website and sent an email for a requested estimate on the repair that was needed. In a short time I received a call from Jim, who quickly arranged for one of his employees, Noah, to respond for the evaluation and estimate. Noah couldn't have been more professional and he quickly identified the problem, he obviously knew his business, and gave me a very reasonable estimate for the repair. Its worth noting that the estimate was far less than other like services had quoted me. The repair was scheduled for a few days later (time to gather the needed parts) and Noah...
Michelle Hill
3 months ago
Where do I even start? I called Jim Rice on a Wednesday evening (well after normal business hours) when our AC quit working. To be honest, I did not expect him come out until the next morning. But I decided to call him because I have little ones and we live in Florida….it's hot! Jim arrived in less than an hour, when he should have been at home with his family but instead he put our needs first. Our HVAC unit was 17 years old and unfortunately it was time for a new one. Jim ordered us one before he left our home and we planned to install in 2 days. To our surprise he called the next morning...
Sunday night was a hot one as our A/C decided to stop cooling. I checked Facebook and found positive comments by several customers so I gave them a call. They promised to come out after noon. They called to let me know they were on the way. Patrick arrived, introduced himself and got to work. He let us know his progress every step of the way. He gave us a diagnosis along with a price estimate. Before long, despite having to work in the rain, Patrick finished his work and cool air resumed. Patrick was very professional, very thorough and very friendly. We will definitely call Jim Rice A/C Services next time we need air conditioner help.
Jim has a great thing going here. I am extremely happy with the service he provided and his rapid response time. He is very professional and explained everything he was doing in great detail. I won't advertise when he came but I will say that no one else would. Thank you for helping us Jim!!
Marlene Pegueros
3 months ago
I reached out to Jim Rice on 8/23 late afternoon. ( I have searched for this person for years he worked at a previous company I used to use). Mr. Rice answered right away got me on schedule next day. His tech Patrick was right on time, very polite. (and every time before coming into the house he stomped his feet to not bring in dirt). Patrick was very through. I am so glad I found Mr. Rice and his company after all these years. Highly recommend to anyone needing AC. It speaks volumes on what type of service you provide when past customers look for you in other places. Thank you for the help to day and getting our AC...
Air Conditioning Problems solved RIGHT THE FIRST TIME!