Air Conditioning Service in Spring Hill
Spring Hill families call on Jim Rice A/C Services when they need a fast, professional and reliable air conditioning contractor.  Call us today at 352-442-7748 to solve your air conditioner problem!
Coming home to a hot house in the heat of Florida is less than desireable! Fortunately Jim Rice A/C Services is here to help make sure your air conditioner is always keeping your home cool.
Reach out to Jim Rice A/C Services for any of these Air Conditioning Services.
If your Air Conditioner isn't providing the cold air you require, you may need a
new filter

.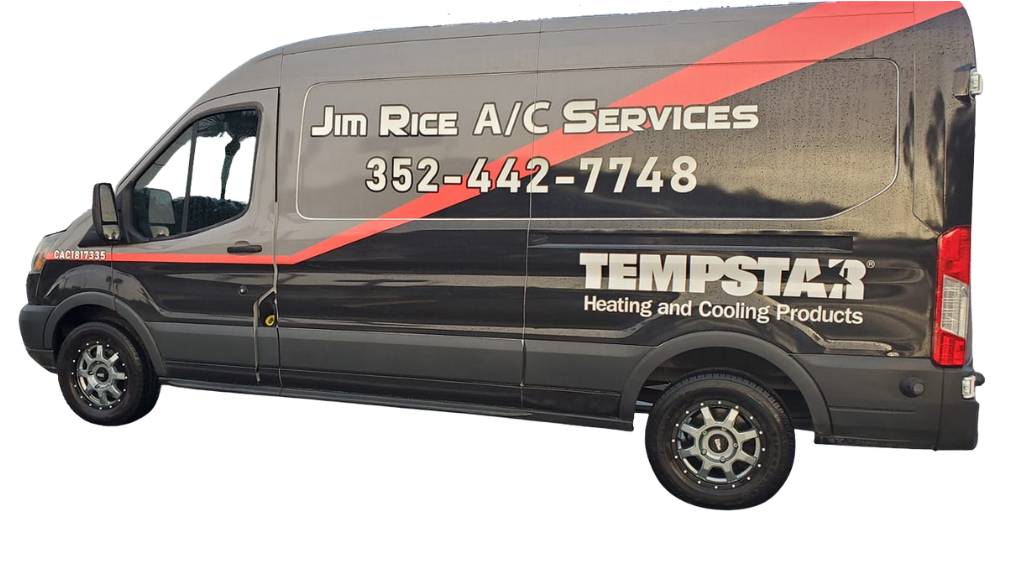 How to Properly Maintain Your Air Conditioner
Whether you have a central air conditioning system or a one room unit, it's essential that you properly mainain it to make sure it works when you need it most and lasts as long as possible.
Follow these quick tips for keeping your air conditioner in great shape.
Change Your Air Filter Once Per Month

Changing the air filter is arguably the best thing you can do to properly maintain your air conditioner.

Keep The Coils Clean

Be sure to keep the coils clean to avoid placing unnecessary strain on your air conditioner. We recommend taking the first step, by clearing the area around the outdoor unit.

Check The Fins

If you notice the fins are bent, you can purchase a fin comb to solve the issue or call a professional air conditioning technician to assist.

Inspect The Condensate Drain

If you notice water isn't draining properly, unclog the obstruction or contact your local air conditioning company.

Schedule a Professional Maintenance Appointment

When you schedule a maintenance appointment, your entire air conditioner will be cleaned, inspected and tuned. This ensures it is functioning when you need it most and we look for any underlying issues.
Whether it's for preventative maintenance, repair or a replacement of your air conditioner, you can count on Jim Rice A/C Services. Call us in the Spring Hill area at 352-442-7748!
Javier Pinzon
3 weeks ago
Jim Rice A/C has now helped me on a house of mine 3 times now. I do not primarily live in the area so to have someone so dependable is invaluable to say the least. He is very professional and does a great job. Very lucky to have them in the area!
Frances Wanchick
a month ago
The best prices from the the companies I contacted. AND services never even sent me the quote. He told me someone had sat on my ductwork, smashing it down. Although, he never took pictures of this alleged damage. Jim Rice and another area company denied there was damage. The employees knew what they were doing. The whole a/c installation took about 3 good. I would definitely recommend them.
Rick Epsteen
5 months ago
Jim is the best in the business! He is very professional and honest. After countless times that he could have up-sold me and told me that my entire system needed replaced, he didn't. He was very upfront and said that while my system is old (especially for FL) he would do everything he could to keep my system running for as long as he could. In fact, he has kept it running for years beyond the normal life span. One night he even came over after a youth baseball game, so that my family did not have to sleep in the heat and humidity. If you want someone that will tell you things just to get your money then call...
Jim was able to schedule me in the next day(thank goodness!). He showed up on time, was very professional, extremely personable and made me feel very comfortable regarding honesty. He was quick and charged me an honest, fair price. I will definitely be calling him again in the future. Thank you Jim!
Christine Brown
4 months ago
We called Jim Rice this morning when we realized our A/C wasn't working. Panic was setting in because I have MS and being in the heat paralyzes me. And yes, it's been HOT. I would have been sitting in the car before long. Jim came to our home first thing and replaced a start capacitor on our system. Jim Rice A/C is a great company and has installed our home A/C unit and a mini-split in our garage. Jim was a life saver for us today. Highly recommend!!!!! Thanks Jim.
Air Conditioning Problems solved RIGHT THE FIRST TIME!